Gypsum grinding Plant in Philippines
Category: In Asia
Author: kefidqgh
Time :04-01
Application: Gypsum board factory
Fineness: 150mesh, 120mesh

Centrifugal ultrafine mill (referred ultrafine mill) is my factory in advanced milling equipment developed based on a new generation of ultra-fine milling equipment, has obtained national patent, Certificate No.: ZL200420010530.6; alternative Raymond, stable production of ultra-fine powder, the fineness of 80 mesh -1500 mesh can be adjusted between.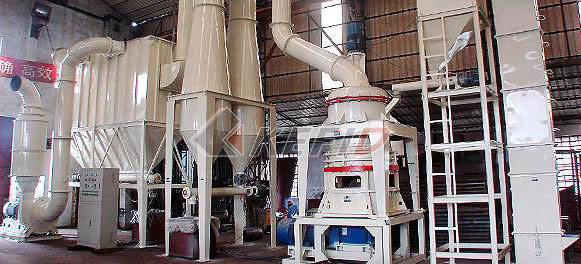 Centrifugal ultrafine mill features:
1, low noise, small vibration;
2, the pressure, powder and more;
3, grinding ring and roller wear uniform, long life, is 3-5 times of ordinary Raymond;
4, suitable for hard materials;
5, micronized low iron content;
6, can be run continuously during operation does not affect the oiling roller bearing chamber;
7, small power consumption, high efficiency, easy installation and maintenance;
8, the mill blade feed, low failure rate.

Centrifugal ultrafine mill Scope:
Centrifugal ultrafine mill is mainly applied to barite, calcite, limestone, kaolin, bentonite, marble, plaster, refractories, quartz, glass, ceramics, such as hardness not greater than 9.3 and humidity below 6% minerals high powder processing, particle size between 80 mesh -1500 mesh arbitrary regulation.