Cement Production Line in Philippines
Category: In Asia
Author: kefidqgh
Time :04-01
Application: barite
Fineness: 200mesh with 97% passing through rate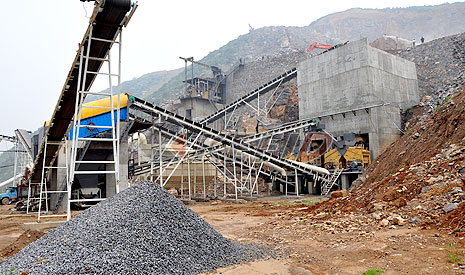 1, crushing and pre-homogenization
crushing the cement production process, the majority of raw materials to be crushed, such as limestone, clay, iron ore and coal. Limestone is the largest amount of raw materials for cement production, the larger particle size after mining, high hardness, thus crushing limestone material crushing in cement plant occupies a more important position.
pre-homogenization of raw materials pre-homogenization technique is the raw material of the deposit, withdraw the process, the use of scientific stacker reclaimer technology to realize the initial homogenization of raw materials, the raw material yard also have the function of storage and homogenization.
2, raw material preparation
Cement production process, each producing one ton of Portland cement grinding at least 3 tons of materials according to statistics, the dry process cement production line grinding operations need to consume power accounted for about 60% of the power plant, where raw material grinding accounted for 30% or more, accounting for about 3% of the coal mill, cement grinding about 40%. Therefore, a reasonable choice grinding equipment and processes, optimization of process parameters, the correct operation, control operation system, to ensure product quality, reduce energy consumption is of great significance.
3, raw material homogenization
Cement production process, stable raw material composition is stable pit entry clinker burning thermal system on the premise, raw material homogenization system plays a stable raw material composition pit entry last a gatekeeper role.
4 Preheat decomposition
The raw material preheating and partial decomposition done by the preheater, rotary kiln instead of some functions to shorten the length of the kiln back, while allowing the kiln feed gas to accumulate state heat transfer process, move to the inner state of suspension preheater carried out under the same raw material can be discharged from the kiln hot gas mix, increasing the contact area between the gas feed, heat, fast heat exchange efficiency, to improve the kiln system productivity, reduce heat consumption of clinker burning purposes.

5, cement clinker burning
Raw material in the cyclone preheater preheating and pre-decomposition complete, the next step is to enter a rotary kiln for clinker burning.
6, cement grinding
Cement manufacturing cement grinding is the final step of the process is the maximum power consumption. Its main function is to cement clinker (and gelling agent, performance tuning materials, etc.) grinding to a suitable size (in fineness, specific surface area, said), a certain particle size distribution, increasing its hydration area, accelerated hydration speed to meet the cement paste condensation, hardening requirements.
7, cement packaging
Bagged and bulk cement factory has two kinds of shipping methods.