500tph granite production line in Europe
Category: Europe
Author: kefidqgh
Time :04-01
Application: Road building
Fineness: 0-10 mm
Production capacity: 500T / H
Configuration: Feeders ZG1538, jaw broken PE1200 * 1500, back-breaking PF1315, vibrating screen groups
Application: granite uniform structure, hard texture, color, appearance, is the high-quality building stone. Granite difficult to weathering, color appearance, appearance and color can be maintained more than a century, because of its high hardness, wear resistance, except for senior architectural engineering, the hall floor outside, or the material of choice for outdoor sculpture.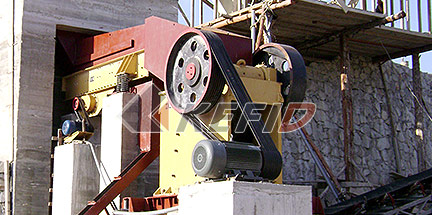 Process description
Granite is an igneous rock, also called acid plutonic crystallization by feldspar, quartz and mica, rock hard and dense. Wherein feldspar content of 40% -60% silica content of 20% -40%. Granite resource rich, widely distributed, folk traditions with granite building houses, roads, bridges, is a common architecture, infrastructure construction materials. Can also be used in chemical, metallurgy, thermal power, cement, printing, defense facilities and other fields.
Because granite is mined out large pieces of broken equipment often need to go through the material broken into small pieces, used for the actual production and construction. Here's a common 200T / H Detailed granite production line configuration.
Mining of limestone with a loader and cars into hopper, vibrating feeder through the warehouse next ZG1538 uniform feeding PPE1200 * 1500 jaw crusher (broken jaw). Crushed mixture into PF1315 impact crusher for secondary crushing shaping. After secondary crushing plastic shaker mixing into 3YK2670 do a screening, failed aniseed back PF1315 impact crusher, screening a kind of finished material, sieve shaker mixture into two 2YK2670 do secondary screening. Two screening of the finished stone pile with belt conveyor.