limestone Crushing Plant in Algeria
Category: African
Author: kefidqgh
Time :11-18
Application: limestone
Fineness: 0-3-8-15-25mm
1500TPH limestone production line configuration solution
Production capacity : 1500T / H
Configuration : ZG2038 feeder , PCZ1620, PC1615 hammer crusher , vibrating screen three groups .
Applications: can be used as rubber, plastic, paper, paint and ink industries filler. Widely used in organic synthesis, metallurgy, glass and asbestos production . Can also be used in the kinds of agents of industrial wastewater containing SO2 emissions of SO2 elimination agent , dairy feed additives and oil filled anti-adhesive felt . Also be used as dentifrice , toothpaste and other cosmetic raw materials .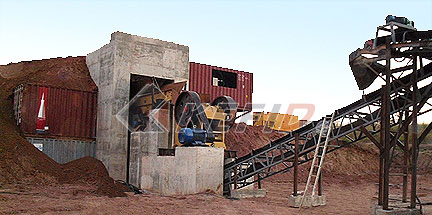 Process description
Mining of limestone with a loader and cars into hopper, vibrating feeder through the warehouse next ZG2038 uniform feeding PCZ1620 heavy crusher. After mixing all broken into PCZ1615 crusher for secondary crushing shaping. After secondary crushing plastic shaker mixing into 2YKZ3070 do a screening , failed aniseed back PCZ1615 crushers, screening a kind of finished material , sieve shaker mixture into two 2YKZ3070 do secondary screening . Two out of two kinds of manufactured stone screening , sieve shaker mixing into three 2YKZ2670 do three screening . Three screening out two kinds of manufactured stone . Hammer crusher and vibrating screen between each pass of the material transported by belt conveyor , the separation of the three kinds of manufactured stone pile with belt conveyor