Mobile Type Iron Ore crushing line in Guinea
Category: African
Author: kefidqgh
Time :11-18
Application: Iron ore
Fineness: 0-8-25-32mm
Mobile Type Iron Ore crushing line introduction
Adaptation Material:
Iron ore is hard stones, and basalt , granite difference is inside it contains iron, so in addition to crushing system than there are iron selection process. KFD can provide you with iron ore crushing process technology consulting, engineering design and other full-service .
Application:
Ore-dressing
Device configuration:
Feeder, jaw crusher , cone crusher , vibrating screen , belt conveyor .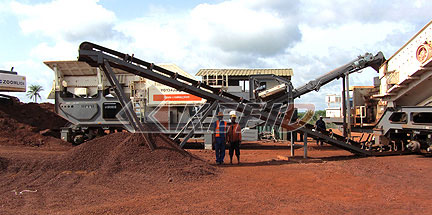 Iron ore beneficiation crushing process :
Iron ore beneficiation , according to the type and nature of the ore , can have a variety of different processes. Concentrator generally coarse broken, broken in three sections of broken and fine crushing of iron ore crushing process . Rough broken jaw crusher multi , medium , fine use of cone crusher . Through thick broken ore , and then through medium and fine crushing of materials to fit into the ball mill granularity .
Iron ore consists of vibrating feeder evenly sent to jaw crusher for coarse broken, coarse material after breaking fed by a belt conveyor to the coarse crushing cone crusher for further crushing , crushed material is transported to the vibrating screen screening, meet the size requirements of the finished material through to the finished product conveyor belt conveyor stockpiles ; does not meet the size requirements of finished material from the shaker back breaking or crushing cone crusher processing to form a closed loop. Finished size according to the needs of users to mix and graded.
Iron ore beneficiation crushing process performance:
The iron ore crushing production line high degree of automation , high crushing ratio , low operating cost , energy saving and environmental protection, fine granularity . Mountain America to provide customers with a comprehensive process solutions and technical support , but also according to the actual installation conditions supporting the design of non-standard components.