Concrete batching Production line in Algeria
Category: African
Author: kefidqgh
Time :03-31
Application: Concrete batching
Fineness: 0-3mm,3-8mm,8-15mm,15-25mm
Concrete mixing station consists of mixing console , material weighing system , material handling systems, material storage systems, and mixing station control systems and other five major system components and other ancillary facilities .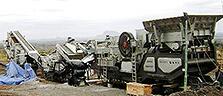 1 mixing console
Concrete mixer stir their way into forced mixing and self- fall mixing . Compulsory mixer mixing station at home and abroad using the mainstream , it can stir liquid , semi- rigid and rigid variety of dry concrete . Since the fall mixing console main mix fluidity concrete , now rarely used in the mixing station .
2 materials weighing system
Material weighing system affecting the quality of concrete and concrete production cost of key components , divided into aggregate weighing , weighing powder and liquid weighing three parts. Under normal circumstances, less than 20 cubic meters per hour, mixing station using superposition weighing methods, namely, aggregates ( sand, stone ) with a scale, a scale with cement and fly ash , water and liquid admixtures were weighed and then put into the water , said liquid additive pre-mixed bucket . In more than 50 cubic meters per hour, mixing station , the use of the said materials weighing independent way , all have adopted electronic weighing scales and computer control . Aggregate weighing accuracy ≤ 2%, cement , powder , water and admixtures are up weighing accuracy ≤ 1%.
3 . Material handling system
Material handling consists of three parts . Aggregate conveying ; currently mixing station conveying and transporting belt conveyor with hopper in two ways . To enhance the advantages of the hopper small footprint , simple structure. Belt conveyor has the advantage of conveying distance , high efficiency , low failure rate . Belt conveyor is mainly used to aggregate temporary storage of mixing station, mixing station to improve productivity. Powder delivery ; concrete powder available mainly cement, fly ash and slag . Now widely used method of transport is a screw conveyor conveying powder , large mixing station with pneumatic conveying and transporting scraper . The screw conveyor has the advantage of simple structure, low cost and reliable. Liquid transport mainly refers to water and liquid admixtures, they were transported by the pump .
4 Materials Storage Systems
Concrete can be used for storage of materials is basically the same . Aggregate open dumps ( there are cities with large commercial concrete mixing station closed silo ) ; powder with a fully enclosed steel silo cement silo storage ; admixture steel container.
5 mixing station control system
Mixing station control equipment package of the central nervous system . Control system based on user requirements and mixing of different size and have different functions and preparation, general construction site available small mixing plant control system is simple for some, but the system is relatively large mixing station complex .