Stone Production line in Jamaica
Category: Latin America
Author: kefidqgh
Time :03-31
Application: River stone for concrete mixing
Fineness: 0-6mm, 6-19mm, 19-25mm
Stone production line mainly consists of vibrating feeder , jaw crusher , impact crusher , vibrating screen , belt conveyor and other equipment. This set of equipment design output is generally 50-70t / h, to meet the processing needs of different customers , can be equipped with auxiliary dust removal equipment.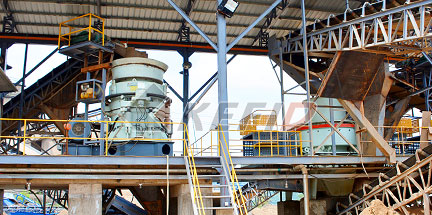 Stone production line high degree of automation , large crushing ratio , high production efficiency , large capacity, the product was crushed cube shape, flakiness content is low, without internal cracks , engage in high pressure . Equipment maintenance is simple , the vulnerability of the domestic color with the latest high-strength wear-resistant materials , low loss , long life , customers can bring considerable economic benefits. Stone crushing production line , successfully applied in limestone, basalt , granite, pebbles and other rock crushing process , the crushed product quality fully meet the GB14685-2001 standard for the higher road , rail, water , concrete mixing stations and other industries to provide a qualified bone material .

Stone production line process is roughly: ( silo ) ---- Feeder ---- jaw crusher ---- Crusher ---- shaker ---- ( can become a finished product ) . Available between the intermediate conveyor machines connected .
Basic process of stone production line introduction:
First, the stone from the feeder evenly sent an initial coarse crusher broken, then produced into a coarse material transported by belt conveyor to the crusher for further crushing , crushing stone into the shaker after a different screening specifications of the stone, does not meet the size requirements of the stone material back into the crusher broken again .