mobile crusher for mobile stone production plant
Category: Wiki
Author: Lee
Time :11-18
KFD mobile rock crushing & screening plant is a new designed mobile crusher, which is flexible, convenient and strong in mobility, so it can save a large construction capital and relocation.
This type mobile crushing plant manufactured by KFD is flexible configuration, because we can provide a targeted mobile crushing plant configuration according to the requirements of our customers. It is can either crushing with one single plant and also composes multiply-stage crushing, screening and other plants work jointly. It can operate with one single crushing station, and also can work with multiple crushing plants.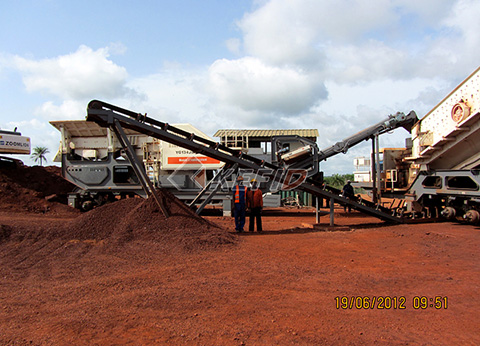 Mobile crushing plant has many good performances, for example, its rational and compact combination, maximally saving the working area; small turning radius makes it convenient for driving on the ordinary road; and it can enter the mining area to work directly so that saves the cost of the raw material being transported away from the mining area.
KFD mobile crushing and screening plant can be used in many fields, such as cement industry, iron ores processing, power plant desulfurization, and many other fields.