crusher jaw motor bracket modal analysis
Category: Wiki
Author: kefidqgh
Time :12-23
As technology advances and awareness of the depth , jaw crusher continuous improvement in the structure , parameter matching is becoming more rational , performance continues to improve gradually from simple placed compound pendulum ( from the elbows to a single plate bracket ) , from crushing to crushing , from deep cavity lumen to develop a double-action jaw , etc. for various types of jaw crusher , crushing engineering equipment within the scope of becoming the most , the most complete varieties and specifications and a number of the most used crushing equipment, has a good application prospects.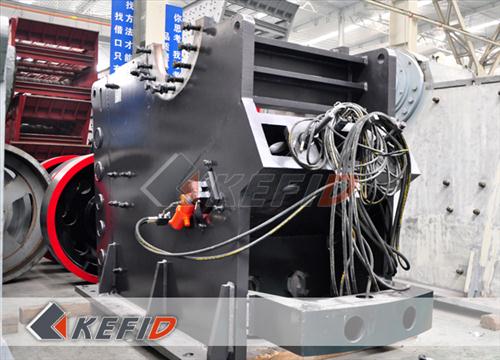 However , this is not commensurate with the design method of crushing machine is still relatively traditional , many crusher manufacturing and design units still use manual and multi- dimensional CAD design. Compared with foreign advanced mechanical manufacturing and design tools, jaw crusher in three-dimensional modeling, dynamic analysis, the existence of a large gap . For the new uniform posing outside the movable jaw jaw crusher ( or simply new jaw crusher ) , the introduction of dynamic design technology in its design and development , so that the design study of the new jaw crusher gradually entered into a three-dimensional model based to kinetic analysis and advanced finite element analysis software as a means of dynamic design stage , has a very important practical significance and strategic significance.
In the actual calculation and analysis in order to facilitate the constraints imposed on the chute Department deliberately added during the modeling portion of the toggle plate bracket connected to the movable jaw . When applying constraints , because when you create a physical model of the structure is only half the symmetric model is selected , so the symmetry plane of symmetry constraint set boundary conditions ; simplified when the movable jaw hinged connection with the cylindrical surface of the bearing stress analysis for the easy to apply constraints to , the boundary conditions can be set as X, Y, Z fixed to three constraints. Similarly, the bracket only axial pressure, no bending moment , so although the actual situation toggle plate and moving jaw is hinged bracket , then the toggle plate and moving jaw bracket with GLUE stick together, still in line with the actual situation , brackets are fixed to the base connection . In modal analysis , the only effective " load " is zero displacement constraints . If the additional load imposed on the finite element model , when conducting modal extraction they will be ignored.