500 TPH stone crusher production line configuration
Category: Wiki
Author: kefidqgh
Time :01-09
Q: what is 500 tons/h stone crusher production line equipment configuration ?
A: The high degree of automation of stone production line , complete production line in addition to power down equipment and routine maintenance , almost no manual operation. Its production of high- efficiency, low running costs , yield, high yield , finished stones uniform particle size , particle shape is good , the national high-speed material requirements.
Here we configurations produced 50 tons of stone production line when introduced:
1. A feeder device :. 300x70 feeder
Trough size 3000x700 (mm)
The maximum feed size greater than or equal 500 (mm)
Processing capacity is 60-120 (t / h)
Spindle speed 350-800 (r / min)
Motor Power 7.5 (kw)
Weight 3225 (kg)
Dimensions 3705x1450x1250 (mm)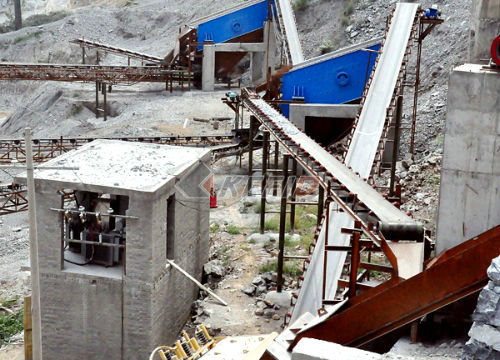 2 thick broken - jaw crusher : PE430x600 jaw crusher
Inlet size is 430x600 (mm)
The maximum feed size 400 (mm)
Nesting population adjustment range is 90-140 (mm)
Handle is 35-60 (t / h)
Eccentric shaft speed 275 (r / min)
Motor Power 37 (kw) ( can be configured according to customer requirements )
Total Weight 6.5 (t).
3 thin broken - Crusher FP-1010
Specifications Φ1000x1050 (mm)
Inlet size 400x1080 (mm)
The maximum feed size 350 (mm)
Production capacity 50-80 (t / h)
Power was 75 (kw)
Weight ( without motor ) 12 (t)
Overall dimensions are 2390x2040x2600 (mm).
4 vibrating screening machines 3yzs1236 type
Screen surface layers : 3
Screen size is 1.32 m
The mesh size is 5-50 (mm)
Processing capacity is 75-245 (t / h)
Speed ​​is 974 (r / min) double amplitude 6-8 (mm)
Electric power is 11 (kw)
Overall dimensions of 4300x2537x2645 (mm)
Total Weight 3200 (kg) Screen angle of 20 °
Screen size is 1200x3600 (mm).